Biology Lab
The Biology Lab is located in the main complex.
The field station includes a chemical laboratory and a biological laboratory as well as storage space for wet samples, a herbarium and a small workshop.
Chemistry Lab
The Chemical Laboratory is also situated in the central lab complex.
A freezer, water system, hazardous material storage, and ventilation are part of the onsite facilities available to visiting scientists.
WHOI Building
The WHOI building located in the service marina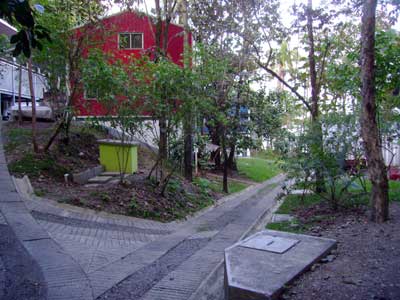 It provides boats storage, a diving facility, workshops, a wet lab and ROV and AUV hangers for scientific research.
WHOI Wetlab
The Wetlab Facility houses the seawater system and aquaria for experimentation.
Scuba Facilities
The Liquid Jungle Lab contains a small SCUBA diving facility comprised of a Dive Locker and SCUBA tank filling stations and SCUBA air compressor.
Conference Room
The LJL office located on the ground floor of the Lab is equipped with a projector, screen, tables and seating as well as printers.
The central complex meanwhile provides comfortable accommodation for everyone
Including recreational space, prepared meals from a central cafeteria, a basic library, a conference room, and an infirmary with a physician or nurse onsite 24hrs.
Library
The Liquid Jungle Lab has a small library facility for research and student use with some basic science textbooks and casual reading novels.
Visiting researchers are encouraged to bring field guides, science and engineering texts, laboratory methods, peer reviewed journals or their favorite novel to contribute to the growing body of knowledge housed on the shelves.
The library contains wireless access points and desks for reading or working.
Dining & Kitchen Commons
A view of the central dining hall and kitchen in the main lab.
A place where inside meets outside, the LJL architecture provides a unique perspective of living space by integrating the external environment and sounds with transitions to efficient working areas.
Dormitories
The Liquid Jungle Lab has onsite accommodation adjacent to the laboratory space
The dormitory includes 7 rooms which can be configured to sleep 1 – 2 persons (double or single) and 1 male dorm room with 2 bunk beds and 1 female student dorm room with 3 bunk beds.   Current capacity to comfortably house approximately 12-16 researchers at a time.
Rooms include en suite bathrooms and showers, ceiling fans, and mosquito nets.   There are 2 additional dorm rooms available in the Service Marina.
Workshops
The mechanic shops in the Service Marina with Justino the chief mechanic on duty help to keep LJL a well oiled machine.
Infirmary
The Liquid Jungle Lab has a centrally located and well outfitted infirmary and provides an onsite nurse 24hrs/day to provide medical attention and stabilization in case of medical emergencies.
Researchers should bring with them any special medications, prophylaxes, and supplementary first aid kits they require during their visit at the LJL field station.
The nurse will request visiting researchers to complete a brief medical orientation that will acquaint the nurse with any special conditions; allergies or medical contraindications so that this information will be available for the nurse in case a medical emergency arises.
All researchers are expected to have all required forms of personal insurance coverage while conducting research in residence.   SCUBA divers are recommended to obtain supplemental emergency evacuation and decompression treatment insurance through Divers Alert Network (DAN) or similar coverage through their respective institutional carriers.  There are two heliports available for rapid evacuation and a small airplane landing field 20 minutes away by boat.